Imagewear will customize any of our design ideas to fit your needs. Here's how we work...
Choose your design...
Select a design from our extensive design idea collection. Our in-house art department will customize your design choice with desired ink colors, wording, mascots, logos, and any other prefered edits.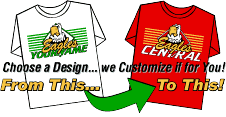 Within 48 hours, you will receave a customized proof via email to review ink colors, spelling, layout, print locations, etc... Additional edits and changes are allways welcome if you are not 100% happy with the frst proof.



Once your design meets your approval, you are ready to move on to step two.
Place your Order...
Once you've approved your artwork, you're ready to place your order. There are two methods you can use... If you know how many items you need, you're ready to order! If you wish to take orders, we will provide you an Order Sheet no additional charge.
Order Sheets are a great way to make sure you don't over order. Plus, you can collect payment from those ordering in advance. This makes it easy to cover the cost of your order with no out-of-pocket expense. Once all of the order sheets have been returned to you, you will add up your total for each size. Now you're ready to order.


Receive & Distribute your Shirts...
Now that your order has been placed we'll get busy and have your order ready to ship within 7 working days. When you place your order you will receive an invoice via e-Mail.
Ready to get started? Click here to view 100's of design ideas.




We can also create custom artwork from your sketch, description, or camera ready files. For more information regarding a complete custom artwork design, click here.